Posted on September 7th, 2011 by Ryan
Filed under:
Model-T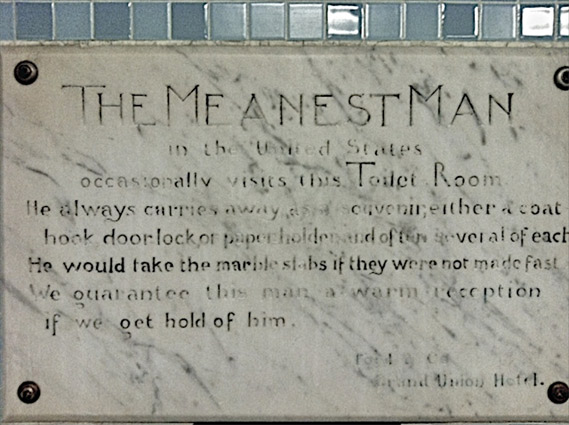 I've been trying to verify the owner of this hotel. There is some consideration towards Henry Ford being one of the original investors, but I haven't been able to find anything that substantiates that. In any case, I wanted to post it as I thought is was hilarious… and figured you guys would too. The slab was located inside a restroom at the Grand Union Hotel originally, but is now located at the Downtown Athletic Club in NYC. The text reads:
"The Meanest Man
in the United States
occasionally visits this Toilet Room.
He always carries away as a souvenir, either a coat
hook, doorlock, or paper holder and often several of each.
He would take the marble slabs if they were not made fast.
We guarantee this man a warm reception
if we get hold of him.
Ford & Co.
Grand Union Hotel."