Looking for original Schrader valve stem #1822. Need five but will buy one or more. Already have New Old Stock dust caps and rim nut bushings, just need the stem itself. It measures 2-1/2 inches tall and was used on Model AA Ford trucks in '28 and '29 which had wire spoke wheels. Would also like to have the valve cap (#880), hex nut (#725) and bridge washer (#5607) shown in the photo.
How to identify: Stem 1822: 15/32"-26 and 19/64"-32 (2-1/2" total height); flat sides 1 & 2 engraving example pairs:
"SCHRADER" and "UNIVERSAL VALVE 1822" over
"Trade Mark Reg. U.S. Pat. Off."
"star SCHRADER" and "U.S.A. PAT.
nnnnnnnnnnnnnnnnnn " over "nnnnnnnnnnnnnnnnnn"
or
"1822 star MADE IN U.S.A. star"
"star SCHRADER" and "Reg. U.S." over "Pat. Off." and "1822 star"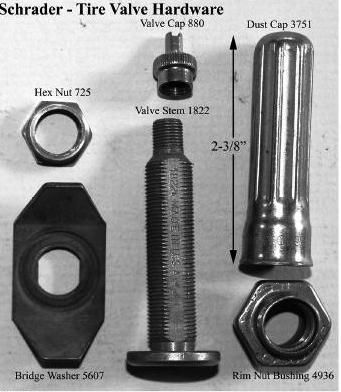 I need these to complete the restoration of my '28 AA Express truck like was used on The Waltons TV show. Please PM me if you have any of the above available.
Thanks,
Fred