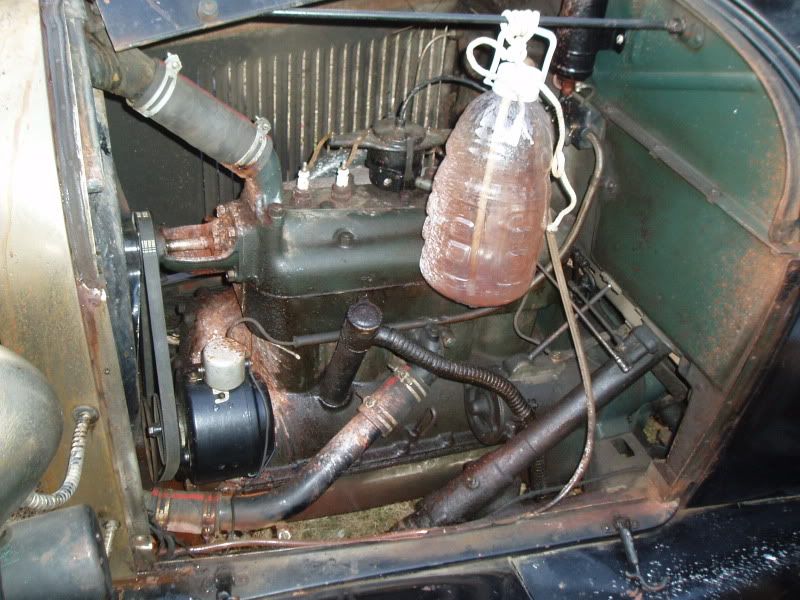 Earlier this summer I ran straight vinegar in my cooling system for 3 days to clean it out. Turns out 3 days removed some rust, but not enough. I bought 3 more gallons of vinegar to run in the car for a month. I then flushed it with water and Cascade dish soap, running it for a couple days and draining, then repeating it again. Yesterday I flushed it with straight water 4 times before the water finally came out clear. Now I can reinstall the thermostat and antifreeze and see how well it works.
It wasn't so much of an overheating problem, but the coolant was filling the top tank and going out the overflow due to plugged tubes. They may have been blocked by grease, water deposits, or rust flakes. I'm not sure, but I wanted to try to open them by cleaning solutions, before I was forced to remove the tanks to rod it out. I connected an overflow bottle to catch anything coming out the overflow pipe. When driving over 43 MPH I'd get about a quart in 10 miles. Yesterday I only got a spoonful in 30 miles.
I rebuilt my water pump exactly as original, and it hasn't leaked a drop in 10 years, but you can see the vinegar removed the grease and let it leak, making quite a rusty greasy mess. You can see the fan even blew it back on the firewall and coil. It'll clean up with diesel or WD-40, then I can regrease the pump. At some point I will install the brass rear bushing with the double lip seal, as this will keep the grease out of the coolant.
BTW, while the water was draining I started the engine and when I gave it some throttle the flow quit momentarily and sucked air into the drain cock.