Posted on July 26th, 2010 by Ryan
Filed under:
Early V8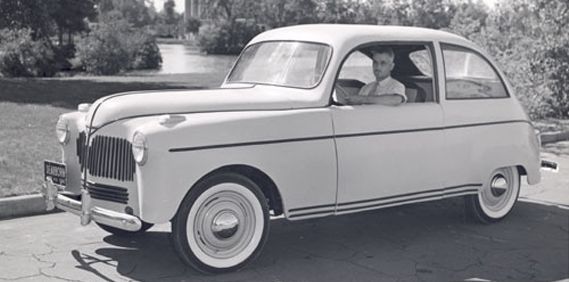 Some of you Fordophiles already know about the Soybean Ford of 1941, but for those who think I'm joking, here's the skinny: In 1941 Henry Ford was looking for alternatives to steel for car bodies, which was getting on shorter supply as the war in Europe was heating up. He also understood that plastics could be more energy absorbing than metal, rust free, and weighed 30% less, so there was an aspect of additional safety, practicality, and fuel economy. Probably the largest factor in Henry's pursuit of soybean plastics was his desire to marry agriculture and industry together- He thought of supporting farmers (who bought his Fordson tractors) as them being able to 'grow' the materials for his cars.
The design was first handed to the great E.T. Gregorie, but soon switched hands to the Soybean Laboratory in Greenfield Village and Lowell E. Overly, a tool and die designer, not an automotive stylist, was put in charge. (This explains the dumpy looking results, and after the war the rumor goes that Gregorie himself destroyed the Soybean car so no one would attribute it to him.) The plastic body was mounted on a tubular steel chassis, and even featured soy-based seat covers and paint.
When the US entered World War II at the end of 1941, the government suspended all private use auto production, and therefore the plastic car experiment was shelved. A second car was actually in the works at the time the war broke out, but the project was abandoned as well. By the end of the war, the idea of a plastic car had lost its momentum, and the focus to get back to civilian automobiles required all of Ford's efforts. Henry would pass away less than two years later, killing any chance of the Soybean car getting on the road.