Posted on May 24th, 2010 by Ryan
Filed under:
Early V8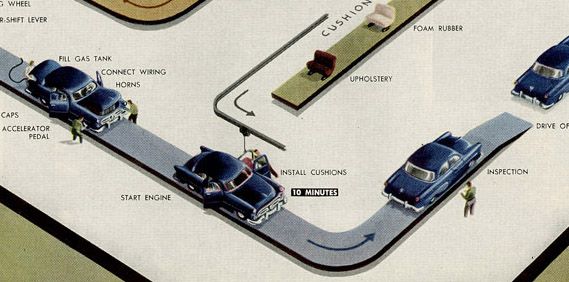 I just had to share this wonderful illustration Ford made in recognition of their 50th anniversary in 1953. The simplified floor plan was meant to show customers how quickly and efficiently their new Ford cars were build. The longest process- the actual body & floor pan build up- took just under 9 hours to come together, but the final assembly was start to finish in under 2 hours! That's incredible. It was Henry Ford's original T production line concept taken to the next level.
For comparison (and please hold any derogatory comments), today's Ford Fusion, made in the Hermosillo Stamping & Assembly facility in Mexico takes an average of 20.78 hours to assemble a vehicle, and that's considered a highly productive, updated plant. Were the cars of 1953 simpler? Of course, you know they were (and still are), but the data is fascinating none the less.
I'll be sharing more images from this 1953 "Ford at Fifty" book over the next few posts. Hope you enjoy them.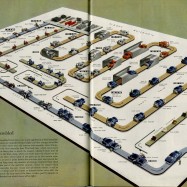 …….
Originally written by Jay Ward on Jalopyjournal.com.